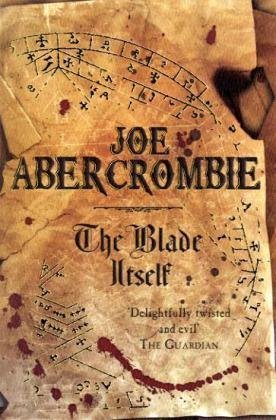 Genre: Dark Fantasy/Grimdark
Series: The First Law
Author info: http://www.joeabercrombie.com/
At first it felt a bit dry. But that is normal after reading so many Mark Lawrence books. Even Mark Lawrence's superb prose felt a bit dry too at first, after R. Scott Bakker. I'm a serial reader who doesn't take breaks between books, so I read through the book hangovers and it takes a few chapters before I really get into a new series.
This book starts with a bang, but where I really got immensed into the story was when Glokta came into play. He is the star character of the book. Sand dan Glokta, once a dashing officer and a brilliant fencing champion, now a cripple and a merciless torturer of the Inquisition, and a truly intriguing and complex character. Not to mention grimdark to the core and no less fascinating as Mark Lawrence's Jorg.
My other favorites are Ferro, Logen, Bayaz and Jezal. Though there are a lot of well written characters in this book, these are my favorites. Bayaz is the First of the Magi as they call him in the book, the most skilled and wisest wizard in the world but he's not your typical wizard. Bayaz is full of surprises and I loved the scene where he was first introduced.
Ferro Maljinn is a killer woman, a very grimdark one at that. Say one thing about Ferro, say she's a damn good killer. And there is the dashing fencing master Jezal, who appears to be a selfish and arrogant prick at first, you can't help but like the guy after seeing his vulnerable side.
Logen Ninefingers is a savage warrior from the frozen North, separated from his companions who think him dead, a lone man dragged into the company of the weirdest group imaginable. His grisly reputation follows him like a shadow everywhere. But the man is so much more than a brute.
The plot consists of intricately woven threads and impressed me a huge deal, since I'm a big fan of complex, intricate plots. There are little details scattered throughout the story which seem insignificant at first, but when they pop again as important plot details it blows your mind. It is the hallmark of a work of genius.
The characterization is really well done and the cast of characters is quite diverse. Some of them have internal thoughts in italics, which really gets you in the characters' heads, though I must say Glokta's lines were the best.
The fight scenes usually bore me, but the fight scenes in this book are amazingly realistic and gritty. There's plenty of action and tension, there's a good measure of gritty adventure and journey scenes too, and the superior characterization makes this book a grimdark masterpiece.
I can say I'm really happy to finally get to reading this book and can't wait to read the rest of the series and see what happens next.
Verdict: Read it! What are you waiting for?