This is the third and last book in The Broken Empire trilogy.
Review for Prince of Thorns (Book #1)
Review for King of Thorns (Book #2)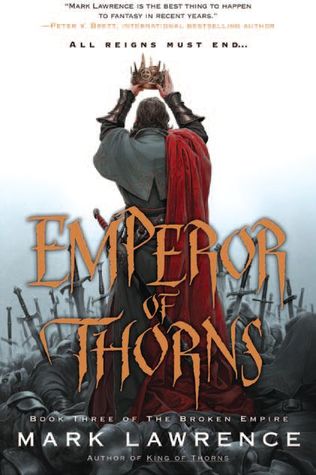 Originally posted on Grimdark Alliance:
If you have read the Prince of Thorns and King of Thorns, this book will break your heart and fascinate you. Darker, heart-wrenching secrets from Jorg's past are revealed and you get to face Jorg's demons. I thought I faced them in King of Thorns, but I was wrong.
The Broken Empire as a whole is revolutionary. You will not find any of the typical fantasy tropes, or if you find them you will hardly recognize them, since Mark Lawrence is quite the cliche-breaker. Where he doesn't break the cliches, he bends them into such angles they no longer qualify as cliches. If someone told me that someone wrote medieval fantasy set in the future times, included advanced technology in it and broke every single trope out there, I would raise an eyebrow and say "How can that even work?" But yet it works and so wonderfully at that.
Read the rest of it here: http://grimdarkalliance.com/blog/2015/05/02/emperor-of-thorns-the-broken-empire-3-by-mark-lawrence/#comment-102