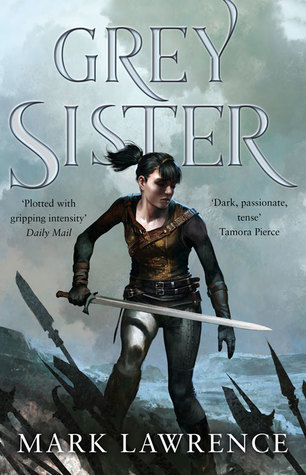 Genre: Fantasy/YA
Series: Book of the Ancestor
Author info: http://mark—lawrence.blogspot.com
Grey Sister is the sequel to Red Sister, and second book of the series. Here is my spoiler free review of Red Sister.
I said Red Sister will leave you with a book hangover in my review. Well, take that and multiply it by a hundred, that's the hangover you will get after reading Grey Sister.
The sequels getting better and better is a Mark Lawrence thing, going by his track record.
Grey Sister picks up the story fast forward two years. Nona is studying in the Mystic class, with the yearning for vengeance burning in her heart. The way the characters, plots and relationships develops over the foundations laid out in Red Sister is just amazing. Nona's character development is brilliant and her infinite love and loyalty for her friends will put a tear in your eye.
Nona's conflicts and struggles, and the way she handles them adds quite a bit of depth to her character. She is overpowered in some parts and totally vulnerable in some others, which creates a good balance.
Things get hell of a lot darker as the story moves forward, with more evil business uncovered, and pretty gritty settings. It is not grimdark like The Broken Empire books, but has quite a few grimdark elements. There are also some horror story moments which gave me goosebumps.
Abbess Glass and Zole are the rising stars in Grey Sister. Zole was an annoying character in Red Sister, but she grows into a first class badass and one of the coolest characters of the series. She steals the show in some glorious and unforgettable badassery moments, as well as some deeply emotional ones.
In my Red Sister review, I said "I have a feeling she will do serious damage in the next book" about Abbess Glass, and I was right. I have to say Abbess Glass is a wonderful representation of mature female in fantasy literature. She doesn't have any magic skills, but she has a the genius wits, wisdom and intuition. She has a much bigger role now that she is deeply involved in an intricate chess game of political machinations, which I found absolutely mind-blowing as a huge fan of political intrigue. Not only that, but the corruption in the church and people using religion to further their own agendas makes the story pretty realistic.
Sister Kettle also has a bigger part and her epic assassin ninja mojo steals the show in a few places. Her battle scenes are super awesome, and her lovely personality comes as a bonus. Not to mention she has admirable heroic qualities.
My other favorite was a non-human character called Keot, the little demon companion of Nona. He is a proper chaotic neutral, quite charming in a twisted way, and highly entertaining. It takes a special kind of genius to bring a disembodied character like that to life, with a palpable presence and strong voice. I'm a fan!
There are incredible twists and turns in Grey Sister, dialled up from what you see in Red Sister. I'm still so awestruck with the marvellous political intrigue and the breathtaking action-thriller parts. Second half of the book picks up the pace by several levels and the action gets so thick, you can't put the book down to the point you forget to eat lunch. I am not kidding you.
The magic system introduced in Red Sister was pretty neat, but Grey Sister lays bare all the dazzling details of it. I have to say the originality and the whimsical beauty of the thread magic was one of the absolute best things I have read in any fantasy book to date. I don't even have the words to do the justice here. Let me just say that if they made this series into movies, thread magic would make some truly mesmerizing scenes.
The last chapters took me to a whole another dimension and would have left me with a supermassive book hangover had I not lined up just the right books to cure it.
If you aren't reading this series, you are missing out a damn lot. Grey Sister is a masterpiece and fantastic in every way to say the least.