I'm a bit late to the party since I should have done this on December, but life and chronic illness got in the way. I made a Goodreads challenge for reading 25 books, but fell a bit short. Most books I read last year are old school fantasy classics I've made a personal goal to catch up with, and only a couple new releases. Btw this is why you shouldn't ask me to review new releases. Unfortunately I am not one of those people who read 150-200 books a year, my own writing takes a lot of my free time. Here goes my 2016 top ten list:
1. The Wheel of Osheim by Mark Lawrence
I had been anxiously waiting for this book, since I'm a huge fan of Mark Lawrence, and his was hands down the best book I have read in 2016. See my review.
2. The Mirror's Truth by Michael R. Fletcher
I had been looking forward to sequel to Beyond Redemption, and it turned out to be more glorious than I expected. Superb characters, excellent prose and a superb grimdark setting, this was definitely the best grimdark I have read in 2016.See my review.
3. Senlin Ascends by Josiah Bancroft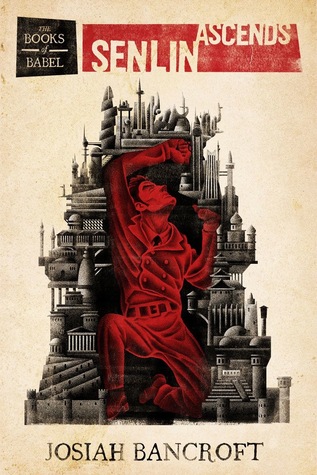 I picked this one up after it made it to the SPFBO semifinals and Mark Lawrence recommended it. I normally read fantasy in pre-modern settings, but I have been curious about steampunk and Senlin Ascends turned out to be quite an excellent choice. It's very different from the usual genre fiction, leaning more towards literary fiction/magical realism, but steampunk to the core. I can't recommend it enough. See my review.
4. The Eye of the World by Robert Jordan
I have been wanting to get into the Wheel of Time and finally managed in 2016. Never too late to read the Eye of the World! I loved it so much I am planning to re-read already after I finish the whole series. See my review.
5. The Farseer Trilogy by Robin Hobb
I will cheat and put the whole trilogy here. I loved these books to death, though it is quite a heavy read and you need to read something funny afterwards to get out of the intense melancholy it gives you. See my reviews for book #1, book #2 and book #3.
6. The Great Hunt by Robert Jordan
The Eye of the World got me hooked and this book got me addicted to the Wheel of Time. The way Jordan unfolds the world and the characters is truly stellar. The length of the series may be intimidating, but it's such a great joy to slowly explore the eormous diverse world, you gotta read it to see how awesome it is! See my review here.
7. The Dragon Reborn by Robert Jordan
Book #3 of the Wheel of Time distinguished itself with the non-Rand POV's and the impressive character development while showing the plethora of diverse cultures and lands. Matt's slow character development reaches the level of awesomeness I have a hard time describing with words and the Aes Sedai world has the supreme dose of magic all epic/high fantasy fans will love. Character development and depth in general is some of the best I have read in fantasy to date. See my review here.
8. Road Brothers – Tales From The Broken Empire by Mark Lawrence
This indie published collection of short stories from the Broken Empire explores the various side characters in depth and gives a good glimpse to their background stories. I greatly enjoyed this book, it was like meeting old friends again. See my review here.
9. Last Argument of Kings by Joe Abercrombie
I am a huge fan of the First Law Trilogy and this book made a superb ending with fireworks and lots of twists. See my review here.
10.The Tombs of Atuan by Ursula K. Le Guin
I am glad to read the first two books of the Earthsea Cycle, and liked this book more than A Wizard of Earthsea. Perhaps it was the gritty, melancholy atmosphere, or the awesome female protag, but Earthsea is definitely a must read for all fantasy fans. See my review here.