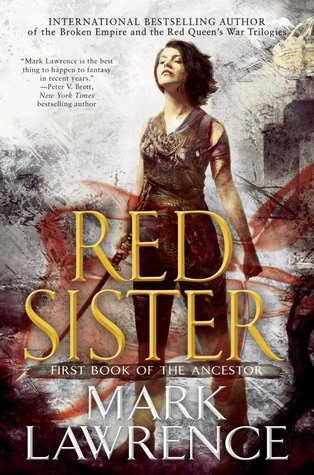 Genre: Fantasy/YA Fantasy/Grimdark
Series: Book of the Ancestor
Author info:http://www.marklawrence.buzz/
Release date: April 4th 2017
I was lucky enough to receive an advanced copy of Red Sister from Netgalley in exchange for an honest review.
Warning: This book is going to leave you with severe withdrawal symptoms, but good news is Mark Lawrence is a prolific author and delivers the next books in the series like clockwork, judging from his established track record.
Red Sister completely blew my mind, bringing back the magic school environment I missed from Harry Potter and Kingkiller so much, with a kick and some serious action. It's not only the magic but the teachers with all kinds of different personalities, friendships, bullies, assassination plots, mysteries, friends sneaking out and cooking up mischief, the whole package. But it's dark, much darker than any book with magic schools.
Now, I'm a big fan of Mark Lawrence and I've read all of his books, but this one is quite different. It's very much Mark's style, but written in third person and I think that's one major element making it different from the others which were all in first person. There is the amazing prose of Mark Lawrence, if you are not familiar with his previous work, let me give you an example from Red Sister:
She left nothing but an echo of her lantern light, soon consumed by a night so ancient that it never truly left such places.
And another:
I have been too young to know, and I have been too old to care. It's in that oh so narrow slice between that memories are made. So enjoy it.
And my favorite of them all:
A long blade, thin, carrying a slight curve, its edge cruel enough to cut silence and make it scream.
Now if those won't make you hit that buy button, I don't know what will! For those who are not familiar, this is the typical Mark Lawrence prose. So beautiful, poetic and magical.
The story is heavily character driven, as Mark Lawrence's other books, but with an awesome magic system to boot.
The main character, Nona, is the best female lead I have read in the fantasy genre along with Mara from the Empire trilogy. If you love Arya Stark, you will definitely love Nona. Even if you are no fan of Arya Stark, you will still love Nona, cause she is a no-nonsense girl, the kind of character everyone can root for.
Another thing worth mentioning is the friendships between the girls, something that was missing in the Harry Potter books and pretty much every fantasy book I have read except for the Wheel of Time. Friendships, loyalty and betrayal in Red Sister is so realistic, it took me back to the middle school and high school years.
Nona starts off as the bullied outcast but she turns out to be a serious badass who doesn't take BS from anyone. She had no friends but one until she got sold to a child trader by her mother and village folk, and she values friendship a great deal. I found her reflections on friendship, and her relationship with her closest friends Clera and Hessa quite touching.
Hessa is disabled, left with a withered leg after an infectious disease. She is such a sweetheart and a smart cookie, also incredibly heroic, which made her one of my favorite supporting characters.
One thing I loved about Red Sister was how even the minor characters were fleshed out so well. The teachers all have their distinct personalities, and some of them reminded me of teachers I had in school back in the days of my youth. The classes were great fun to read, but my favorite was the martial training parts.
The magic system is quite original and intriguing as I mentioned. The migrants who populated this world had four tribes with different kinds of traits, and those of them with magic could wield the different sorts of magic powers depending on their bloodline. The tribes had to intermarry and mix their blood to survive the harsh conditions of this alien world. Children showing the traits of more than one bloodline are highly prized by the people who train them as fighters, assassins, battle nuns and what have you.
Another thing I loved was how Nona's mysterious backstory slowly unfolded along with the mysteries of the strange world Abeth. The curiosity kept me turning the pages well into the wee hours. Last few chapters of the book are outstanding with superb action and plot twists.
Abeth is an alien world, but the characters being so realistic makes you forget that at times. It has its own rules, strange laws of nature, a dying sun and a falling moon, and is covered with glaciers except for the fifty mile corridor at its equator. There are mysterious remnants of an older and seemingly extinct civilization, I suspect we might find out more about it in the next book.
The fight scenes are quite original, though I can't say much cause it would be a spoiler, but as someone who is easily bored of typical fighting scenes, I loved these since they are from a completely different perspective. Kind of like the special effects in movies, but the book version, which is something very difficult to do in writing. I think that was one of the things where you realize what a master wordsmith Mark Lawrence is.
Another thing I absolutely love about Red Sister is the lack of irritating love triangle cliches and the forced romance plots you see in the overwhelming majority of YA books and coming of age storylines. No sir, no romance here, and no love triangles. These girls literally kick arse left and right and have serious things to worry about, and Red Sister gets the big bonus points from me for the awesome political intrigue with the female villains having motivations stemming from political ambitions not involving shallow romance drama.
There is another kickass thing here which I can't mention cause it would be a spoiler, but it should suffice to say I enjoyed reading -with a huge grin in my face- how Mark Lawrence upended some of the most annoying coming-of-age cliches and showed the real girl power here.
My other favorite supporting character was Abbess Glass, who is a snarky and sharp-witted middle aged female character. This sort of character is so rare in fantasy -at least the books I've read so far. She reminded me of Olenna Tyrell from A Song of Ice and Fire/Game of Thrones and queen Alica Kendeth from Red Queen's War, she's awesome like them. I have a feeling she will do serious damage in the next book.
And the ending… Gods above, what an ending that was! I really, really hope this series becomes a mainstream hit and they make movies or TV series of it, cause this story with its superb action scenes would be so great to see on the screen.
I highly recommend this book if you are looking for a superb fantasy novel featuring amazing characters -especially female characters!- an awesome magic system, great plot twists, killer action, political intrigue, sans the annoying love triangles and tired cliches. Such a great book with a fresh new perspective and impressive depth.
I really don't have time to re-read books with my rather massive TBR, but I put this in my re-read list cause it's the special kind of great. I have to thank Mark Lawrence for bringing back my youth with such a mind-blowing magnificent story.
Luckily I have such a massive TBR, or else it would be painful to wait for the next book, which I know will be even better judging from Mark's established track record.