Waiting on Wednesday is a weekly meme hosted at Breaking the Spine.
I am waiting for Red Sister by Mark Lawrence, to be released on April 4, 2017.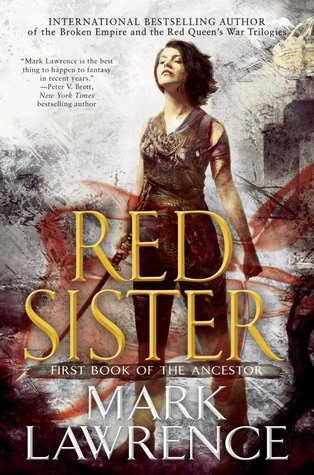 Here is the blurb:
At the Convent of Sweet Mercy young girls are raised to be killers. In a few the old bloods show, gifting talents rarely seen since the tribes beached their ships on Abeth. Sweet Mercy hones its novices' skills to deadly effect: it takes ten years to educate a Red Sister in the ways of blade and fist.
But even the mistresses of sword and shadow don't truly understand what they have purchased when Nona Grey is brought to their halls as a bloodstained child of eight, falsely accused of murder: guilty of worse.
Stolen from the shadow of the noose, Nona is sought by powerful enemies, and for good reason. Despite the security and isolation of the convent her secret and violent past will find her out. Beneath a dying sun that shines upon a crumbling empire, Nona Grey must come to terms with her demons and learn to become a deadly assassin if she is to survive…
I'm looking forward to this one because:
I'm a huge fan of Mark Lawrence and I'm reading the e-ARC at the moment. It's totally different from the other books he has written and it's truly glorious. Even though I have the e-ARC, it would be real nice to have the hardcover copy on my shelf.
What new release are you looking forward to? Share your post in the comments below!