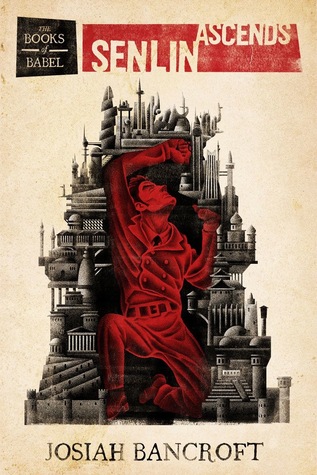 Genre: Fantasy/Steampunk/Magical Realism
Series: Books of Babel
Author info: http://www.thebooksofbabel.com
I picked this book up on recommendation from Mark Lawrence and the SPFBO buzz when it made to the semifinals. It didn't sound like my cup of tea at first (since I prefer pre-modern fantasy settings with lots of magic and epic battles) but I picked it up anyway -interrupting my Wheel of Time marathon- and loved it to death.
Senlin Ascends is a fresh new breath in the genre fiction. If I quote The Wert Zone, "In another universe, Senlin Ascends, which was originally published in 2013, would have already won the Campbell, Hugo, Nebula and Arthur C. Clarke Award." and I agree with this statement. Senlin Ascends has a steampunk setting, with early modern pistols, airships, goggles and what have you. Steampunk lovers will become fans of it and the sequel, The Arm of the Sphinx.
I think Breaking Bad lovers will also greatly enjoy this book, since the main character is a school headmaster who is trying to survive in a hostile environment full of villains and criminals. He doesn't become an epic bad guy like Walter White, but there are certain parallels.
The story starts with Senlin and his wife going to the Tower of Babel on their honeymoon trip, only to discover chaos reigns there and Senlin ends up losing his wife Marya in the crowd. He proceeds into the Tower to find her, but discovers the Tower is nothing like what he read in the tourist guides. Each level is a new ringdom, which is a realm with its own rules and unique environment. Some of them are run down, some are pretty and pleasant on the surface but with a dark side. Out of the numerous ringdoms of the Tower, we get to see four in Senlin Ascends and there will be more uncovered in The Arm of the Sphinx. I must say the worldbuilding is amazing and the alien qualities of the ringdoms shows great creativity.
The characters are brilliantly rendered and the prose is exceptional even for the mainstream published books, let alone an indie. The setting was so vivid and the prose so beautiful, I didn't care the least bit about the lack of magic and fantasy elements. I have given harsh critique to other fantasy books for lacking fantasy stuff, but the steampunk here is so awesome I didn't miss the high fantasy and magic at all. There are plenty of dark and creepy scenes in this book, which I greatly enjoyed as a grimdark fan. It's not exactly grimdark, but has a dark atmosphere, with a bit of humor and uplifting moments spicing it up.
Senlin Ascends leans more towards magical realism than genre fiction, with high literary quality, but it's a compelling page turner with plenty of adventures and intrigue. Josiah Bancroft is a genius for writing a book of incredible literary merit without making it boring for the genre fiction readers. I love Ursula K. Le Guin's Earthsea books, but most of my bookworm friends found it boring, including a couple of literary snobs. But no one can say Senlin Ascends is the least bit boring or dragging. If they do, they are smoking crack.
I can't recommend this book enough, all the hype is 100% accurate and the most reputable reviewers of the fantasy scene loved it for good reason.
Josiah Bancroft does fantastic chalk art of his characters, you can check them out on his web site: http://www.thebooksofbabel.com/new-gallery/