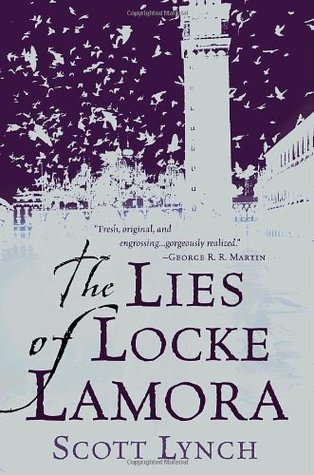 Genre: Fantasy
Series: Gentleman Bastard
Author info: http://www.scottlynch.us/
I was so looking forward to reading this book since I love heist/con artist stories and I've been hearing talk about the Gentleman Bastard series all over the place. I got hooked in the beginning, but unfortunately my excitement turned to disappointment in short order and got worse as I read more chapters. The book has its moments but I have a lot of issues with it.
First of all, there's far too much infodump. Long, boring infodumps are far too frequent in this book. It kills the excitement of the story in too many places. My other major issue is the secondary characters lacking substance. Most of them are two-dimensional and while some of them have great potential, we don't get to see enough of them to really connect or care about them. Old Priest Chains and Jean are well written, but all others fall flat.
Magic is lacking big time and there isn't much of a fantasy feel to the story. The whole place doesn't have the magical atmosphere of Krondor in Riftwar, for example, despite the nice setting, glowing towers and bridges. I hate to say this but the whole thing read like a draft rather than a finished book. It could have been so much better.
My other major issue was the lack of emotional response from Locke. He reacts like a sociopath even when he faces horrible tragedies happening to the people he cares about. The narrative tells us Locke cares about his friends, but his actions don't show it. There's no emotional connection or depth anywhere to be seen. The only thing that kept me reading was Locke's clever stunts and the curiosity what would happen next and how it would end. The story itself was engaging enough to keep me reading until the end, but like I said I had quite a few issues with it.
The plot wasn't my cup of tea, either, since I'm not a big fan of mafia stories. Flashback parts showing Locke's childhood were the best parts of the book, no complaints about those. Some of the scenes and dialogues are brilliant. Fight scenes are very well written.
Despite not being too impressed with this book, I will still read the second one (Red Seas under Red Skies) cause I'm a big fan of pirate and sea stories, and I was told it gets much better. Maybe I'd be more impressed with The Lies of Locke Lamora if I haven't read Mark Lawrence, R. Scott Bakker, George R.R. Martin and Robin Hobb. Maybe the Renaissance Venetian setting and the Italian mafia theme didn't do it for me. Maybe I expected different things from this book (like the thieves' guild sort of stuff I love from Riftwar and Skyrim, more magic, etc.)
Then again millions of people loved this book and there are countless rave reviews, so you may love it if you don't mind the issues I listed above. It makes decent light read, especially after a bunch of gritty grimdark books.
I hope Scott Lynch doesn't see this review and hate my guts, but who is going to take me serious if I don't write honest reviews? After all, it may be your cup of tea.