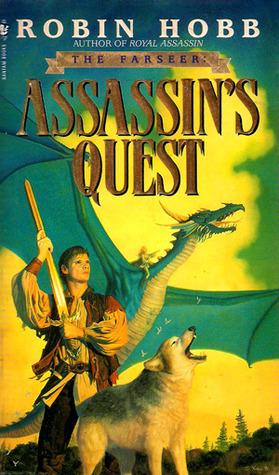 Genre: Fantasy
Series: Farseer Trilogy
Author info: http://www.robinhobb.com/
This is the third book of Farseer Trilogy. See my reviews for the first book and the second book.
I thought Royal Assassin was brutal, but this book ended up being even more gut-wrenching. I'll say it straight out, this book will rip out your heart and mercilessly stomp on it after it's done twisting your guts.
In this book, Fitz leaves the Buckkeep Castle to go on a quest to find Verity and the Elderlings. After that gods-awful bastard Regal plundered and looted everything from it and ran to the inner duchies, there's not much left to stay for anyway. There are also new characters, and some masterfully done character arcs for Nighteyes, Fool and Kettricken.
I'm a huge lover of quests and journeys in fantasy, so I enjoyed the whole big quest thing here. Some reviewers complained about it found parts of it boring, but not me. First of all, tension never lets up and there are constant threats and challenges and some rather brutal things going on. The new characters -the witty minstrel girl Starling and the grumpy old lady Kettle- are pretty darn fun to read. Starling got on my nerves a bit in the beginning, but she's all right. Kettle's grumpy granny antics and chastising Fitz was hilarious to read. They bring some fun and giggles in the midst of all that melancholy and the horrible events.
Nighteyes continues to kick butt and his parts were awesome as I expected. Did I say Nighteyes is the best animal character I'd ever read in genre fiction, or any fiction since Jack London books I've read when I was younger? Nighteyes kicks arse. Fitz and Nighteyes are such an awesome team.
A tad bit more gets revealed about the ever mysterious Fool, which I think is one of the most fascinating characters I've ever seen to date. There is the romance thread between Fitz and Molly, and I promise it's far from cliché and predictable. One of the best romance subplots I have ever read (and I must mention I am no fan of romance plots in fantasy, unless it's very minor and unusual sort.)
It's really difficult to write much more without spoiling anything here, so I will not go into too much detail: Verity's plot was killer, the emotional depth there got quite impressive, and the mysteries about the Elderlings unfolded very nicely. Robin Hobb is a true master with the plot twists but even more so with the slowly unfolding reveals. It makes such a great read. The Fool also shines even brighter in this book, promising more awesomeness in the following series. I must say I can't wait to read those. If you like non-binary characters, The Fool turns out to be one, not exactly belonging to male or female gender. I'm a big fan of (charismatic) hermaphrodite, asexual and gender-ambiguous characters so I was quite happy to see this amazing character here. The Fool is the kind of character who gets a special place in my heart like L from Death Note.
One thing that irritated me a bit was that Fitz didn't get any moment of peace for part of the journey cause of Regal's henchmen, it got just too stressful and made me paranoid, expecting Regal's cronies storming into the scene for quite some time. Also, Regal doing all kinds of awful stuff and no one doing a damn thing to stop him got on my nerves. He seemed to be a stupid douchebag in the beginning, he never gave me the impression of a clever villain, but in Royal Assassin and Assassin's quest he looks like he suddenly got a huge boost of IQ. No one taking any serious action to stop him (other than Fitz) and the dudes with the means to do something being too chicken about it for the fear of committing treason bothered me a lot. But that doesn't make a dent in the value of the book and the amount of fun I had reading this story. All in all it's one of the best series I've read so far and as I said, I can't wait to read the rest of the books set in this amazing world.
Verdict: If you don't read this series, you are missing a HUGE deal. This should be in the mandatory reading list for everyone who call themselves a fantasy fan!