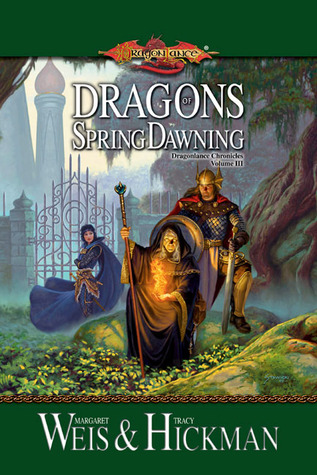 Genre: Fantasy
Series: Dragonlance: The Chronicles
Author Info: http://www.margaretweis.com | http://www.trhickman.com
This is the third and last book of the legendary Dragonlance Chronicles.
This one took me longer to read and dragged more than the first two books but nonetheless it was an entertaining read. The whole series was a nice light reading break after all that serious grimdark.
The adventures are quite good and the companions splitting up and going on different adventures is fun to read. Kitiara is a compelling character, my personal hate for her notwithstanding. She is quite well written and not one-dimensional like most others. Fizban is my other favorite here and the surprise twist was well done too (even though I saw it coming from the earlier hints) and Laurana's character growth was also well done. The love triangle between Tanis, Kitiara and Laurana was a bit more in your face and annoying in this book.
The most shocking thing for me was the tragic deaths of two of the main characters, but then again Harry Potter gets a lot darker and many characters die.
The humor is what makes this series cool. Things get dark and bad stuff happens, but the humor is always there. Most modern fantasy I read has little humor if any (with the exception of Mark Lawrence) and the light humor aspect is what makes Dragonlance Chronicles a perfect summer read.
I think Raistlin is the best character in the entire series. The world is more interesting than the characters except Raistlin and Fizban. All in all it's a nice summer read and I think every fantasy geek, D&D and role playing nerd needs to read it as part of the must-read essentials stack.
I can't wait to read the sequel series Dragonlance Legends and Raistlin Chronicles.
Verdict: Read the whole series!