I'm mainly a High Fantasy/Grimdark reader but I enjoy reading decent YA Fantasy every now and then. However, all the modern YA fantasy I see in the blogosphere is usually centered around teen romance and the love triangle cliche.
Nothing wrong with teen romances with fantasy elements if they are marketed as such, but it greatly annoys me when the books are promoted as epic or heroic fantasy and turn out to be teen romances centered around love triangles.
Dystopian YA Fantasy these days means teen love triangle with some magic elements, and quite a number of people I know wrinkle their noses when they hear the term YA Fantasy. I still think of Harry Potter or Percy Jackson when you say YA Fantasy, but many other folks think 'Hunger Games ripoff with annoying love triangle', and it's rather sad.
I've seen a lot of bookish folk complain about this, so I decided to ask around reddit /r/Fantasy and discover some good books with no love triangles and minimal dose of romance. I got a a lot of great recommendations from the redditors, checked them for ratings/reviews on Goodreads and added most of them to my TBR. Here is my original reddit thread for the reference.
The list is rather huge list of books including all kinds of fantasy (urban, epic, military, heist, grimdark, you name it!) so I divided it up in several parts. This post will be the first part. Some of these books are well known and have been around for a long time, some of them won multiple awards and some are severely underrated masterpieces. I hope this list will be useful for my bookish blogger friends who are looking for good YA fantasy not centered around romance and love triangles.
All right, enough talk, let's get to business! I added the Goodreads links for the series so clicking on the cover images will take you to the Goodreads profiles. The entire list is quite huge and I'm swamped with review commitments and my own writing, I am unfortunately not able to write up summaries for these great books but I encourage you guys to check the Goodreads ratings/reviews for yourselves.
Abhorsen series by Garth Nix
Shade's Children by Garth Nix (Standalone Novel)
The Icemark Chronicles By Stuart Hill
Wind on Fire Series by William Nicholson
Howl's Moving Castle Series by Diana Wynne Jones
I have seen the animated movie of this and totally loved it. These books are in my TBR and I intend to read them as soon as I can!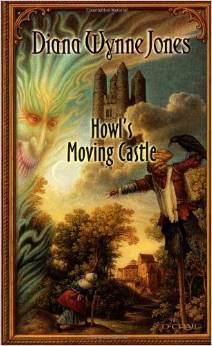 Beka Cooper series by Tamora Pierce
Damar Series by Robin McKinley