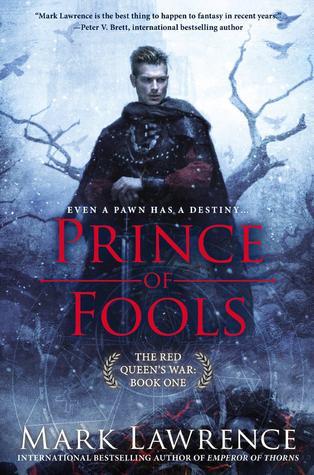 Genre: Dark Fantasy/Grimdark
Series: Red Queen's War
Author info: http://www.marklawrence.buzz/
"I find that the main thing about success is the ability to act in the moment. A hero attacks in the moment; a good coward runs in it. The rest of the world waits for the next moment and ends up as crow food."
― Mark Lawrence, Prince of Fools
To be honest I was a bit scared of being disappointed by this book after reading the reviews about Jalan since I'm a huge fan of Jorg and Jalan is Jorg's complete opposite. But I'm far from being disappointed after reading it and Jalan has a new fan now.
He's not Jorg but he's quite a charming character and his companion Snorri is awesome in many levels. Believe me, Snorri makes up for the lack of Makin and the other brothers here. Jorg makes a cameo with his brothers, albeit briefly, it's a sweet surprise for the Jorg fans. The Silent Sister has serious charisma and Dr. Taproot, our old friend from The Broken Empire has a much longer part and fun dialogues.
Read my full review on Grimdark Alliance: http://grimdarkalliance.com/blog/2015/06/07/prince-of-fools-red-queens-war-1-by-mark-lawrence/
Verdict: Superb book, awesome characters and a damn good journey story with Mark Lawrence's amazing prose.
Rating: 5/5 Roman Solidus.